K 100-120 ZH electric forklift truck
K 100-120 ZH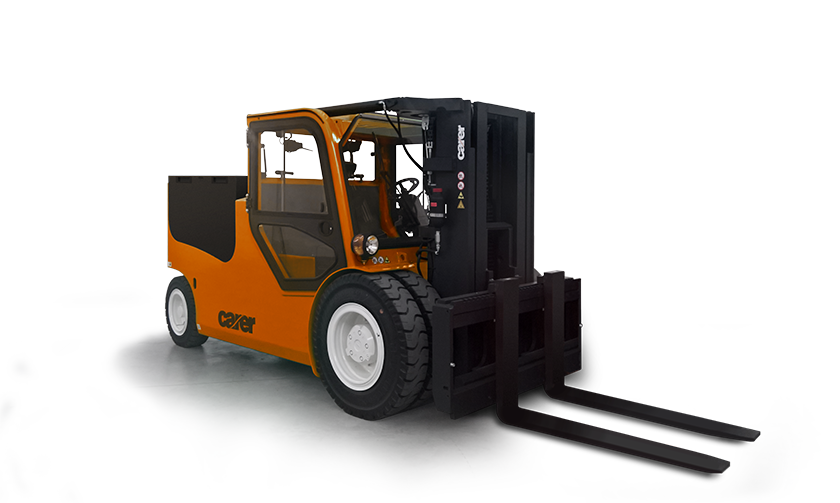 Specifications
| | |
| --- | --- |
| Capacity | 10.000-12.000 kg |
| Loadcentre | 600-1200 mm |
| Voltage | 96V |
| Tyres | SEG |
| Motors | AC |
| Brakes | Oil-bath brakes |
| Travel speed | 12 km/h |
| Hoisting speed | 0,33 m/s |
| Battery | 1860Ah |
Advanced Multifunction Digital Display (amd)
Rear View Camera
High Positioned Tilt Cylinders
Container Version - Total Height = 2.150 Mm
Designed for handling heavy loads inside containers, the K 100-120 ZH offers high performance and reliable manoeuvrability thanks to a system of cameras that allows you to get maximum visibility to the rear in the difficult conditions when handling loads in containers.
Operator's comfortThe driver's seat is spacious and comfortable.

The levers are easy to use.

The steering wheel has a tiltable and telescoping steering column.
The electronic implant allows you to set up the parameters of operation by allowing to balance performances and autonomy of the battery to obtain the most suitable configuration to the use and sensibility of the operator's guide.
SpecificationsThe electric motors are high performance version and supply high torque.
The power is managed electronically in this series of trucks inspired, speed and manoeuvrability are unmatched.
The braking system, type oil-bath is used to lower maintenance cost and can be used in many applications.
The braking system is very effective due to the fact that the braking is applied by slowing down on the drive motor, in this way the current that is regenerated can be reused and the manner of braking can be adjusted to the drivers requirements.
When using the directional lever the regenerative braking will be increased to change direction in a faster way.
Easy and safe handling, the machines are fitted with a sturdy axle, designed by Carer, which ensures very sharp steering of the trucks in combination with a soft and accurate steering due to the separate steering motor and pump.