A 70-120 X electric forklift truck
A 70 X - 80@600 X - A 80@900 X - A 90-100-120 X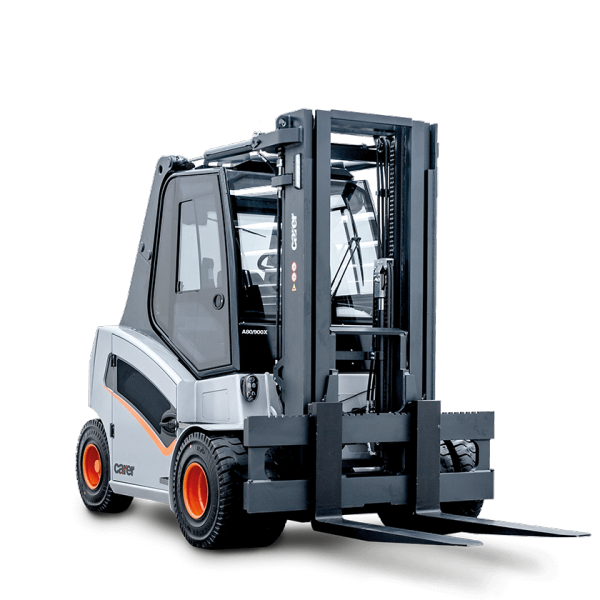 Specifications
| | |
| --- | --- |
| Capacity | 7000 - 8000 - 8000@900 - 8000@1100 - 9000 - 10000 - 12000 kg |
| Loadcentre | 600-900-1.100 |
| Voltage | 96V |
| Tyres | SE-SEG-PN |
| Motors | AC |
| Brakes | Electrical |
| Travel speed | 20 Km/h |
| Hoisting speed | 0,5 m/s |
| Battery | 1.720 Ah |
The A series is the ultimate expression of technological research developed by the Carer technical department.
It's an eco-friendly, noiseless forklift truck: a good alternative to traditional IC forklifts, contributing to reduce the impact of your work on global warming.
All truck functions are managed by sophisticated double microprocessor-controlled electronics and regenerative braking.
High-efficiency AC traction and pump motors.
The oil bath brake system is extremely ffective and long lasting.
Energy regeneration can be carried out by braking, releasing the accelerator, reversing the direction and by positive dynamic braking.
The electric brake doesn't depend on the friction between the tires and the ground ensures a greater contact of the truck to the ground.
Electric motors are built and tested by CARER with the most advanced technologies.
The AC high efficiency motors perform at high torque, guaranteeing speed, high performances and maneuverability.
The highly advanced manufacturing technique makes them reliable and durable even under stress.
The motors are IP54 protected against access of dust and water and they allow to optimize power consumption and to guarantee extremely quiet operation.
The masts are designed and developed in order to guarantee the highest visibility.
The tilting cylinders mounted on the roof structure ensure load stability, high residual capacity and lower tor- sion to the mast.
The forklift is equipped with two high-speed traction motors with high-reduction gear boxes to provide high productivity.
The electrical system layout has been designed to provide the maximum efficiency and reduce Joule-effect losses.

Optional
A wide range of options allows to tailor the truck to the various operational needs: fingertip, joystick, heating, air conditioning, radio with remote control, electronic key access, weight indicator system, front camera and many other accessories enhance the comfort of the driver and help managing information of the vehicle operation from remote.